Executive summary
In this blog, we explore the impact of social media on companies and their stock prices. We focus on a controversial Bud Light advertisement -- a genuine campaign terribly backfired. We examine how social media cost Anheuser-Busch (the parent company of Bud Light) a loss worth billions of dollars.
We use Information Tracer to investigate what caused the Bud Light Boycott campaign, who are the influencers, what narratives they create, and what sentiments they spread on social media.
Introduction
Social media and myself
Social media is more than a platform to share personal experiences or make connections. Over the past decade, it has emerged as a formidable force in the world of financial markets, profoundly shaping investment decisions and market behavior.
I used to work at an event-driven hedge fund. The experience allowed me to witness this transformation up close. Portfolio managers, like those I worked with, closely monitor platforms such as Twitter, where tweets become the pulse of market sentiment. In this age of digital connection, it's vital for investors to understand the collective voice of the online community to make informed trading decisions.
In this blog, we will uncover the correlation between social media posts and changes in stock prices. We will focus on a controversial advertisement campaign launched by Anheuser-Busch InBev SA/NV (AB InBev). This case study will serve as a lens through which we explore the intricate dynamics of this correlation.
A quick recap of the whole story
AB InBev is the world's largest and multinational beverage and brewing company based in Belgium. It has a diverse portfolio of brands, such as Budweiser, Harbin, and Corona. Among all the popular products, Bud Light is the flagship brand. It is the top-selling beer for over two decades and holds a significant share of the global beer market.
However, since April 2023, due to a controversial partnership with transgender social media influencer and TV personality Dylan Mulvaney across major social media, Bud Light lost its top title and resulted in an unprecedented 34% plunge in sales over three months, ultimately triggering a substantial 20% drop in the stock prices of AB InBev, especially in its American Depository Receipt (ARD) $BUD. This drastic shift was instigated by a groundswell of negative sentiment expressed across major social media, ultimately igniting a firestorm of controversy involving prominent right-wing and conservative figures and beer enthusiasts.
Methodology
We first analyze the impact of other factors (sector trend, earning report) on AB InBev's share value. After concluding other factors had little impact, we zoom in on social media.
We use keyword search to collect the most popular posts from major social media platforms -- Twitter, Facebook, Instagram, Youtube and Reddit. We measure their sentiment with the help of large language models (LLM).
We study the correlation between social media sentiments and stock price changes. We also unveil the influence of key opinion leaders (KOLs) in these events. We examine how specific individuals and their posts move markets by contextualizing time, content and stock market price.
Part 0: The bigger picture
Let us first take a look at the general picture. Here is a stock movement of $BUD from January 2023 to October 2023 using the close price.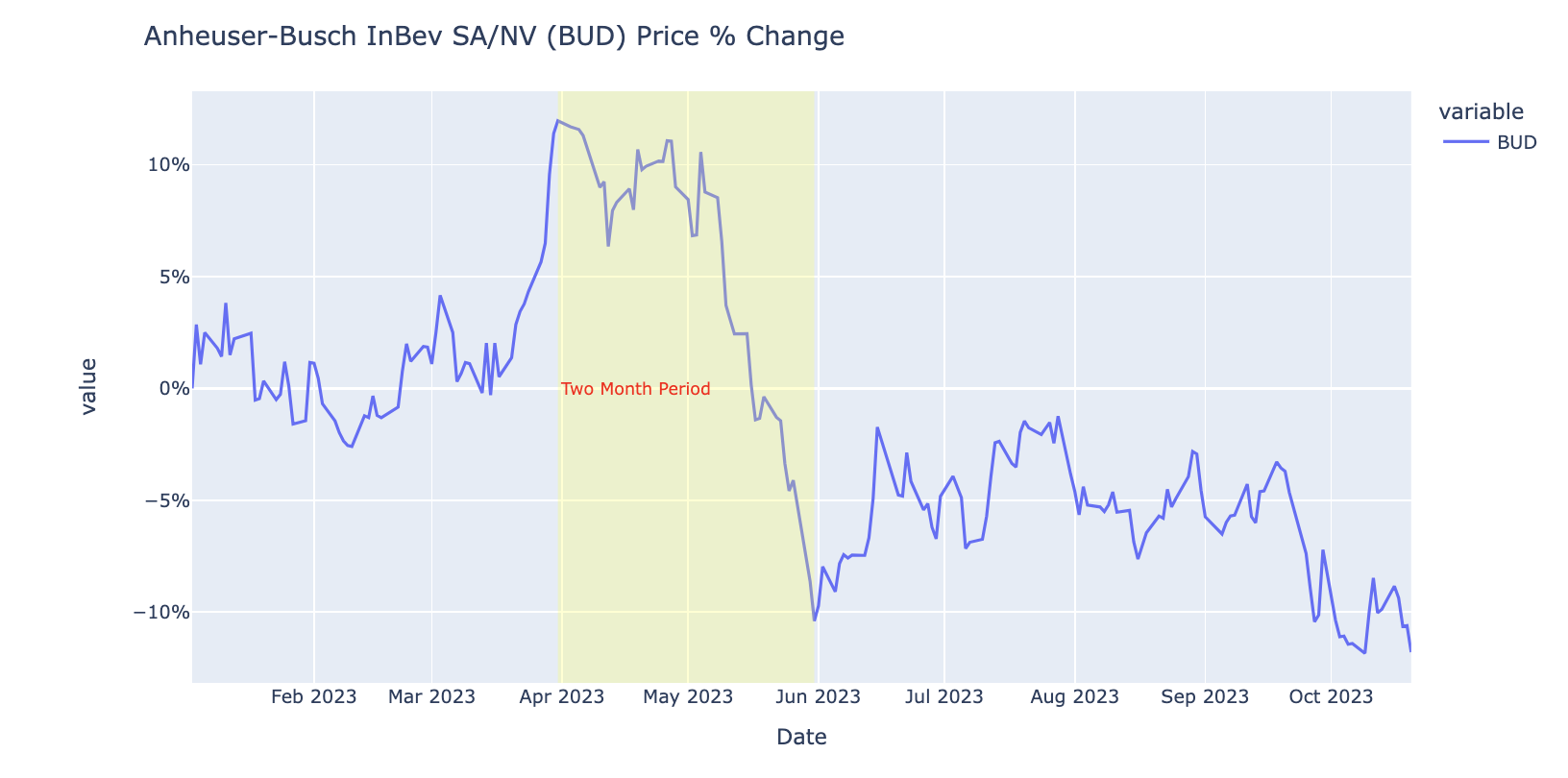 Noticeably, despite the peak at the end of March because of good annual results in 2022, the stock price has dropped over 10% since the beginning of 2023 . From March 31st, 2023 to May 31st, 2023, the share price suffered a 20% loss in 2 months.
What can be the cause of this loss? Earnings reports, economic conditions, market sentiment and industry trends are all major factors to affect the stock price.
First of all, AB InBev has its quarterly earnings report in March and June, so we can directly exclude the impact from these reports. Secondly, it is true that the U.S. is suffering from inflation, and it could be the reason due to the reduced consumer spending and rising interest rate. After comparing the change of $BUD price and the performance of the underlying market, even though there are similar patterns based on the average beta 0.84 of $BUD, it seems that the market is not responsible for the drop in $BUD, especially in May.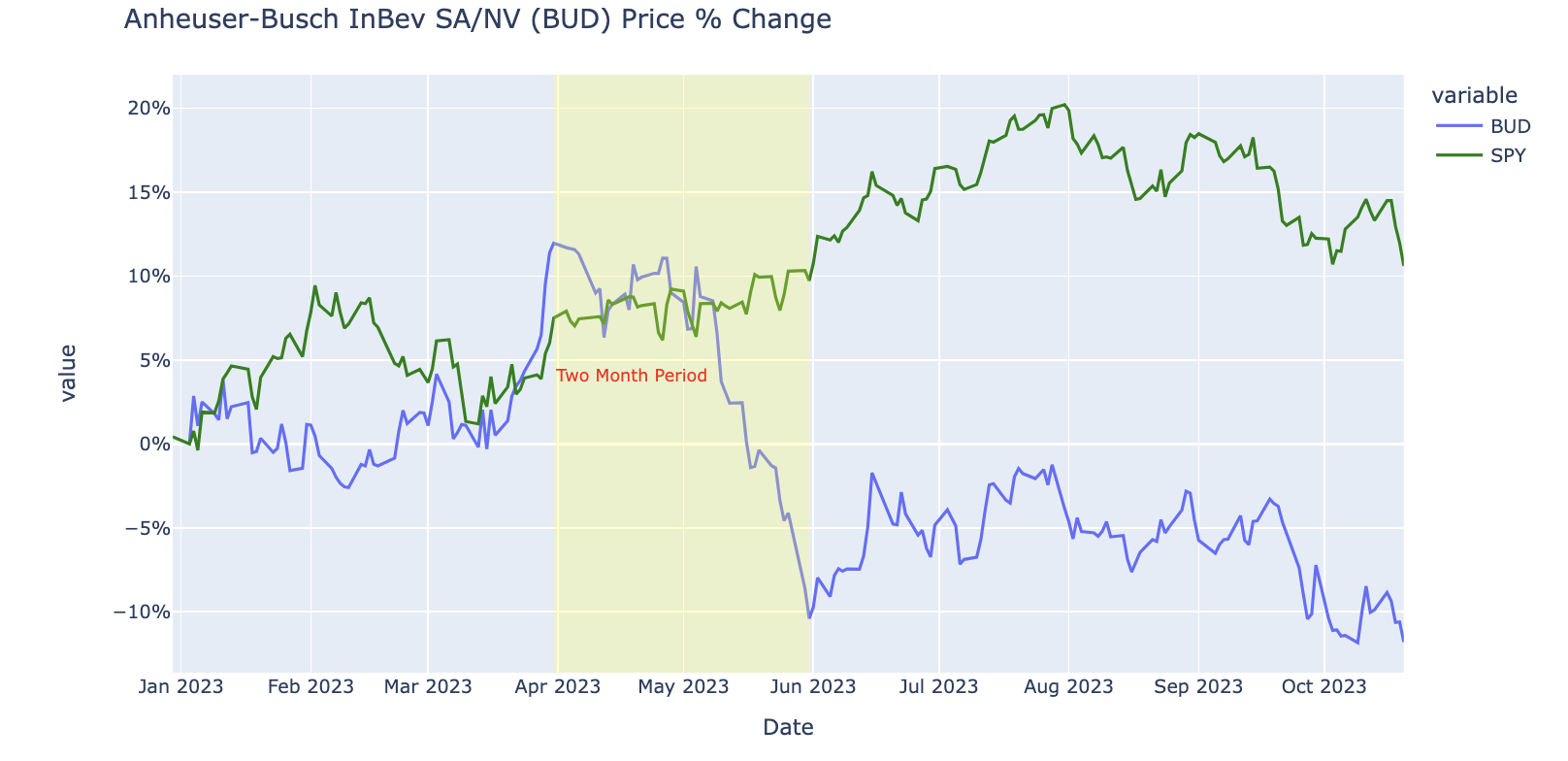 Then, to show the industry trends, we compare the prices of AB InBev against other major beer brands such as Molson Coors ($TAP) and Constellation Brands ($STZ). We see that as soon as the price of $BUD dropped, $TAP price roared. In general, Beer consumption remains stable during the times of recession, and major beer brands have risen during the 2 months period.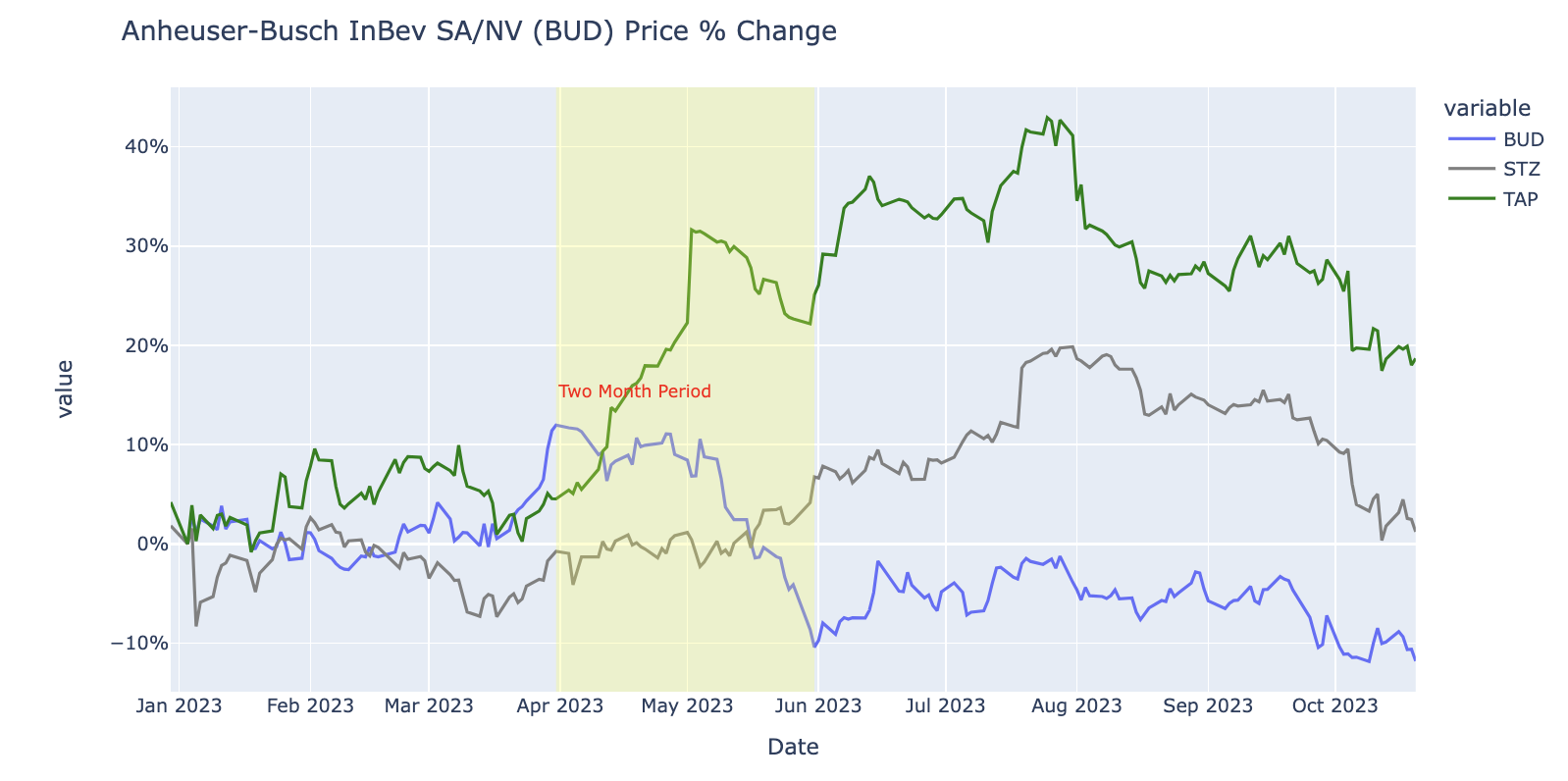 We observed that the overall beer industry performed well. The top competitor $TAP increased dramatically when $BUD started to lose its value. What could be the reasons left to cause this change? It is not hard to think if the controversy started in April would be the reason. Let us start to dive into the controversy.
Based on the stock movement of $BUD, we can divide the changes into three major drops: the drop appeared between April 3rd and April 12th, the drop appeared between April 27th and May 3rd, and the drop between May 4th and May 31st.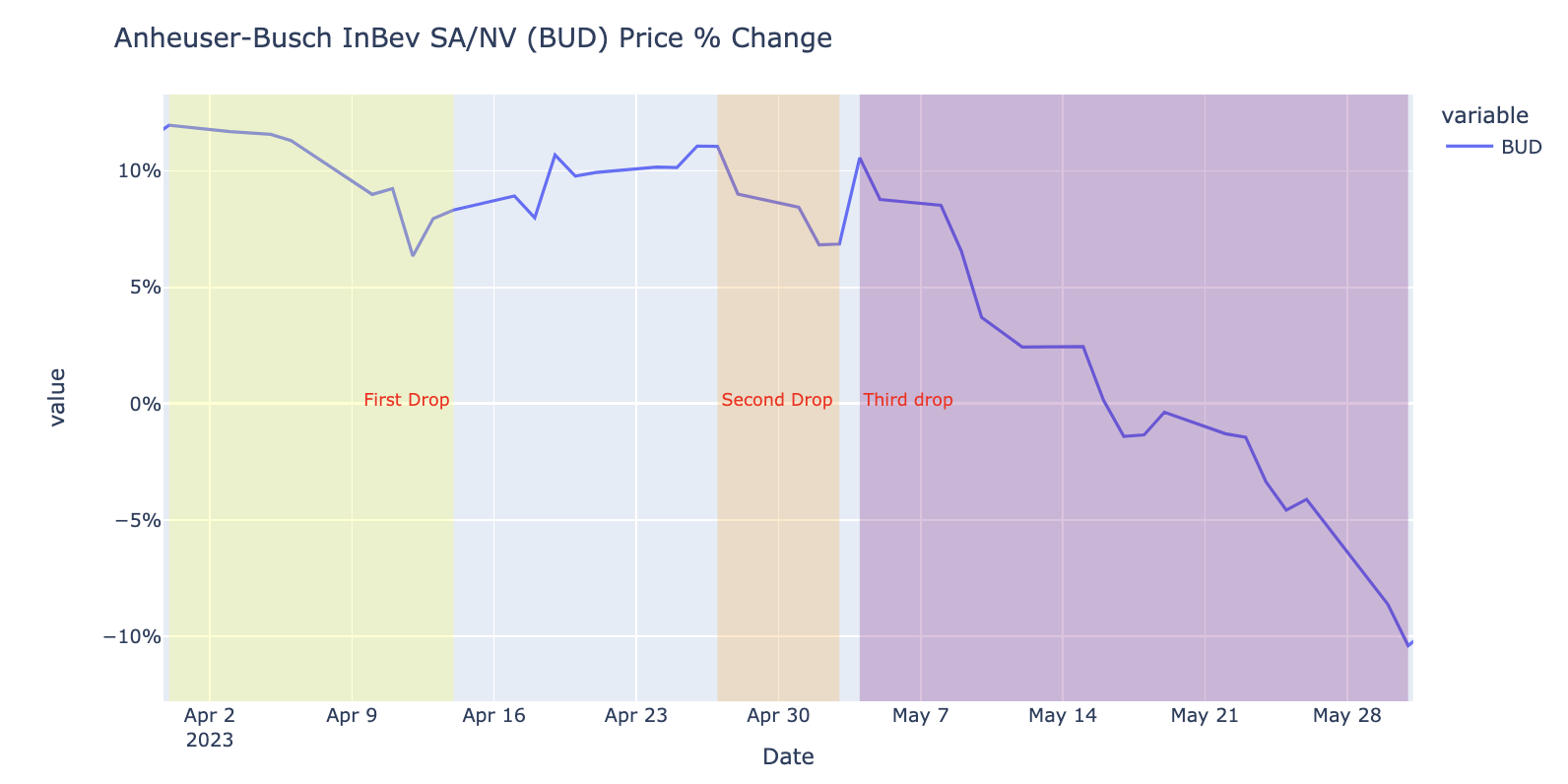 Part 1: Analysis of major drops
First drop (April 3rd to April 12th)
On April 1st 2023 (Saturday), Dylan Mulvaney, a transgender actress and a TikTok personality with 10.5 million followers posted a sponsored video in which she appears in an Audrey Hepburn getup and goofs on March Madness. Dylan also showed one can that featured a custom design of her face from Bud Light, to celebrate her one year of transitioning. This was part of a larger campaign to address Bud Light's decline in sales and attract younger audiences with diversity.
However, this video quickly triggered enormous negativity from American conservatives. On the next Monday, April 3rd, country singer Kid Rock's viral video, in which he fired shots at Bud Light cases with an MP5 submachine gun while donning a MAGA hat, became a rallying cry for the opposition, with the video garnering over 2 million views.
Starting from Kid Rock's video on Twitter, the controversial Bud Light and Dylan Mulvaney partnership swiftly sparked a significant backlash from American conservatives and anti-trans groups. Within one day, calls for a boycott of Bud Light and its parent company, Anheuser-Busch, reverberated across social media platforms, and right-wing media figures, including those at Fox News, launched disparaging and transphobic criticisms against Mulvaney.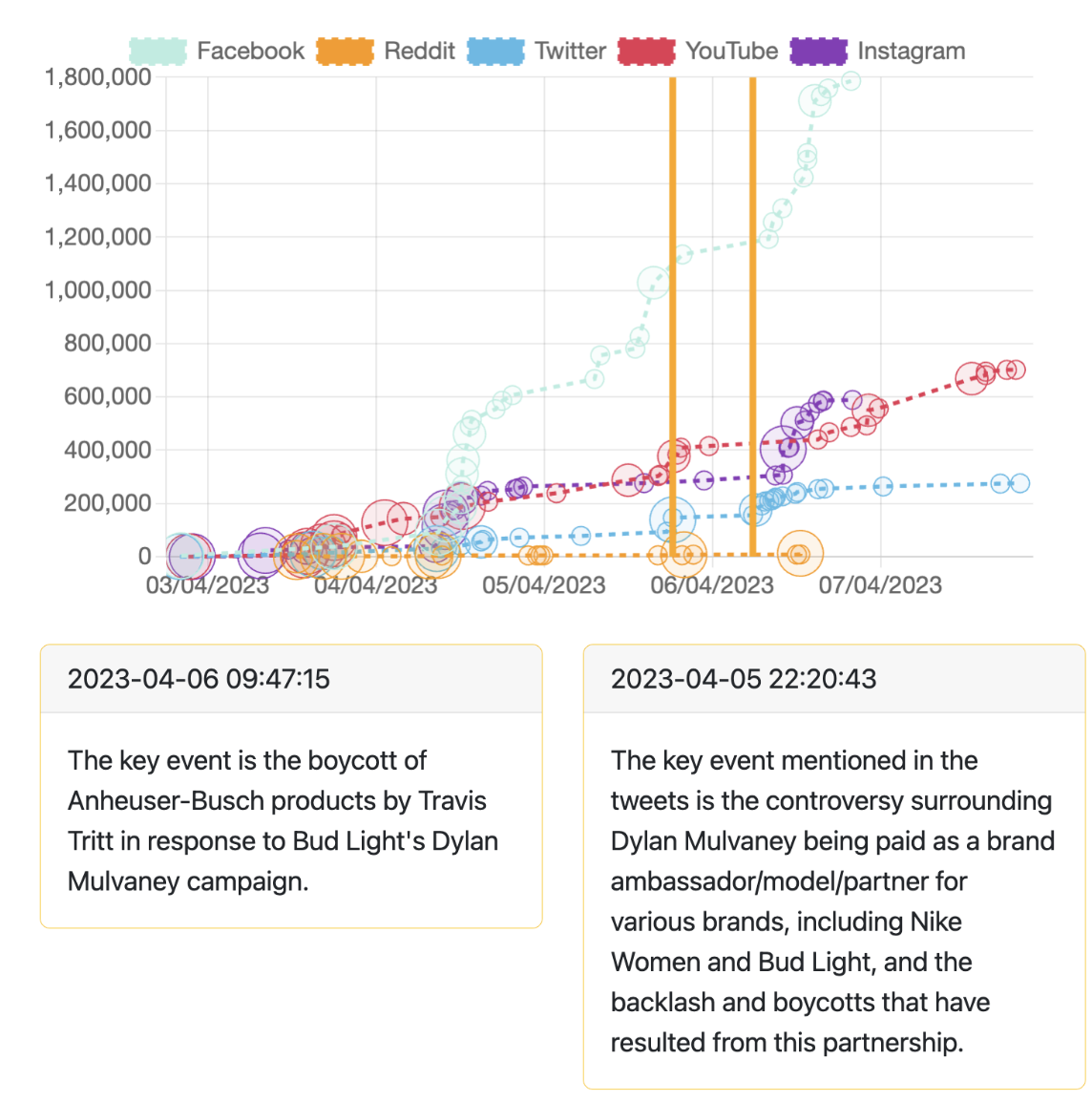 In the following two weeks, this call for a boycott gained momentum, with many consumers refusing to purchase Bud Light or any Anheuser-Busch products at bars or stores. Country artist Travis Tritt joined Kid Rock in supporting the boycott, while singer Ted Nugent vehemently criticized Anheuser-Busch's partnership with Mulvaney, pledging to keep their products out of his world. John Rich, a country music singer-songwriter, also announced that he would no longer sell Anheuser-Busch products at his Nashville bar.
I will be deleting all Anheuser-Busch products from my tour hospitality rider. I know many other artists who are doing the same.

— Travis Tritt (@Travistritt) April 5, 2023
On social media, it is interesting to see that among all the active users, @BenShapiro on Facebook and @OliLondon on Twitter are the most active users and opinion distributors, who can be treated as key opinion leaders. Ben Shapiro is known as an American lawyer, columnist, and conservative political commentator with 9.2 million followers; Oli London is an English Internet personality with 262k followers. Both of them are showing negative sentiments towards Dylan Mulvaney and support for the boycott.

Based Information Tracer data, most of the hashtags on social media are related to the boycott of Bud Light and Nike, which were in partnership with Mulvaney and received negative comments.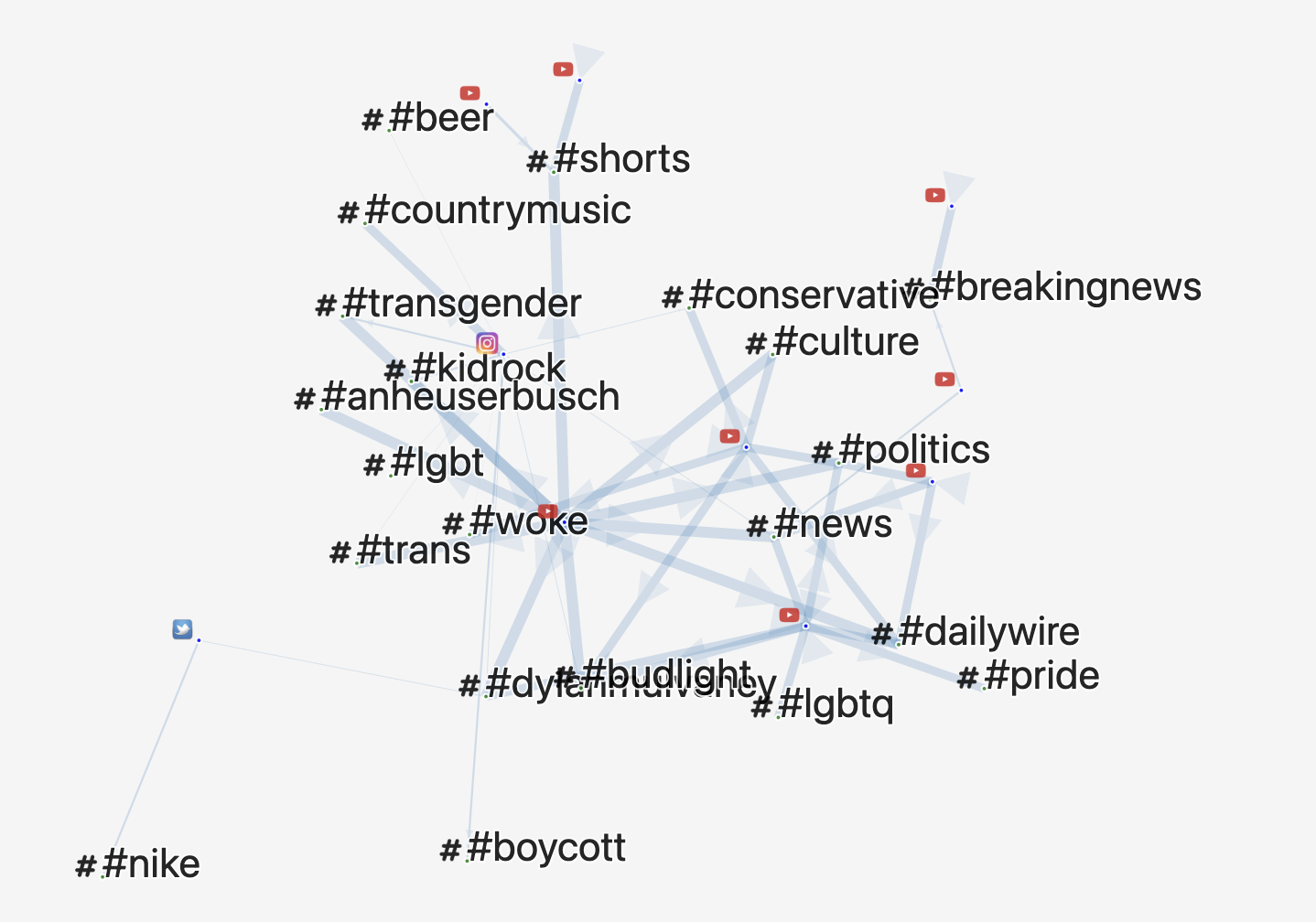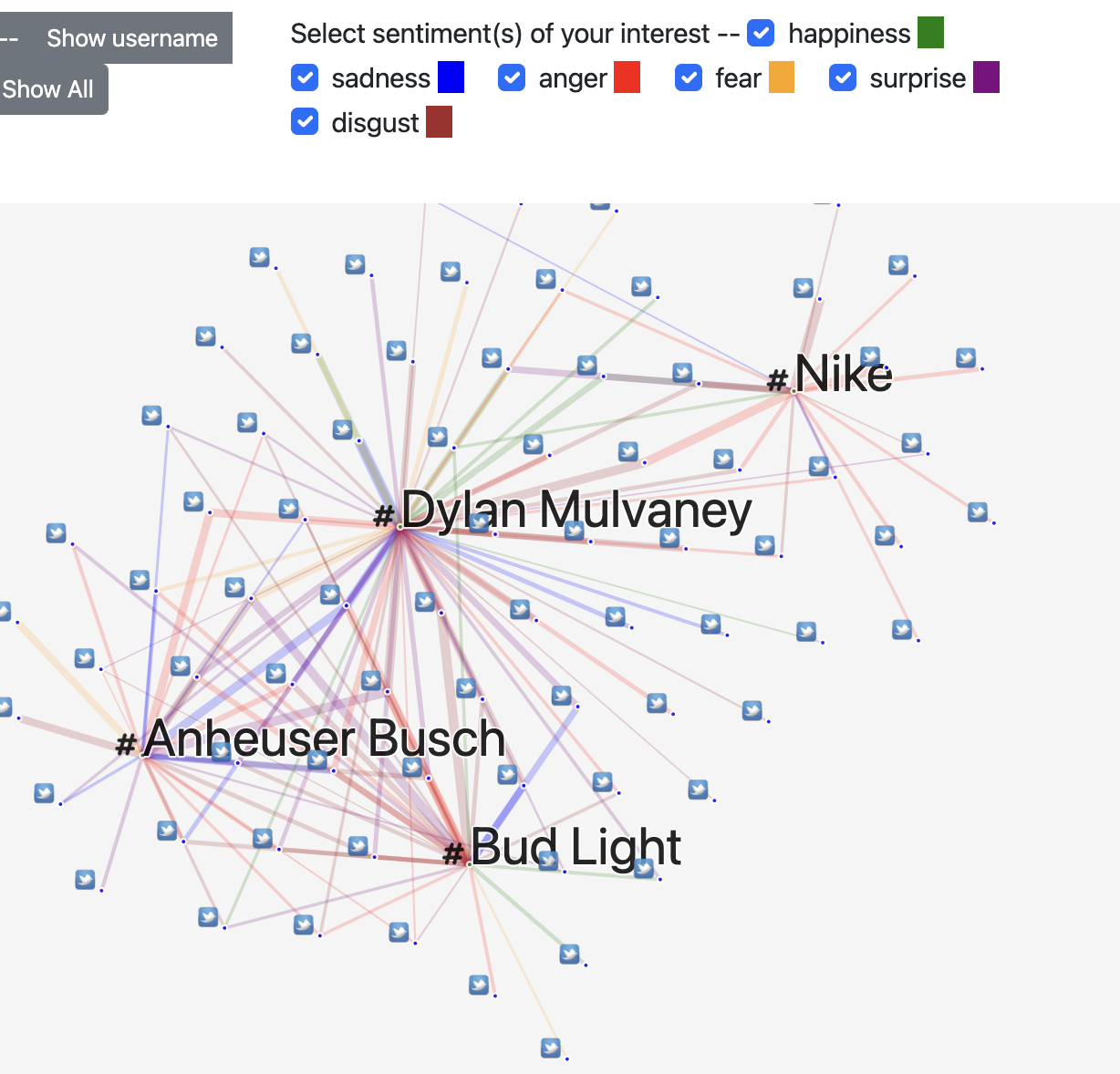 Not longer afterwards, the sales of Bud Light took a direct hit. By the week ending April 8, 2023, Bud Light's sales had already plummeted by 11% nationally, a distressing indicator of the impact of the boycott. The following week witnessed an even more drastic downturn, with sales dropping by a staggering 21%; $BUD stock price dropped by 3%.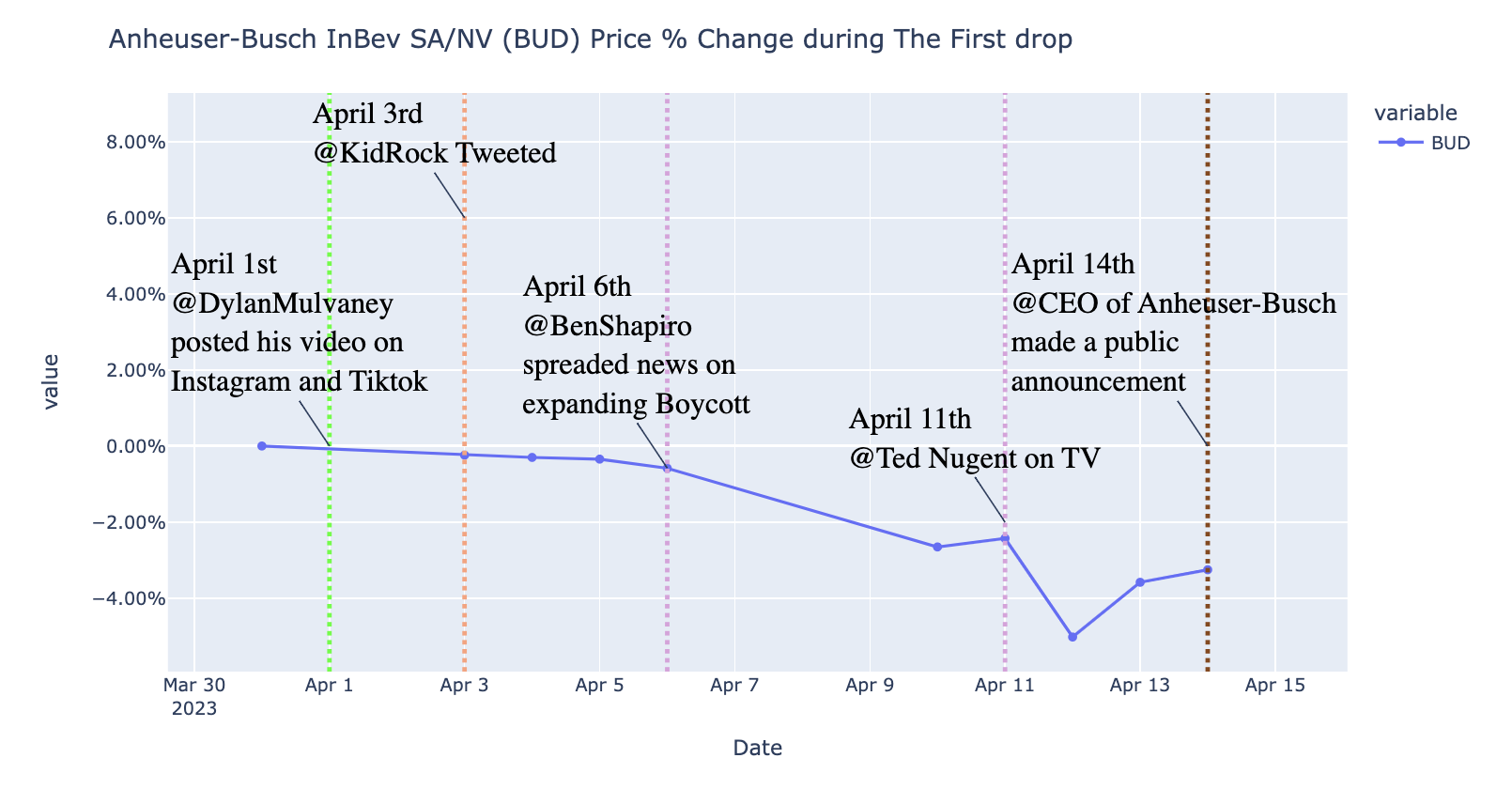 As a response, on April 14th Anheuser-Busch's US CEO Brendan Whitworth released a statement that indirectly referred to the Mulvaney-Bud Light partnership.The statement said, "We never intended to be part of a discussion that divides people. We are in the business of bringing people together over a beer."
April 14, 2023
Even though the stock price and sales went up in the following week, the general feedback across major social media is negative; specifically, the most common sentiment is anger after gathering all the feeds that contain the keywords "Brandan Whitworth" and "Anheuser-Busch", which potentially lead to the second drop on $BUD.
Second drop (April 27th to May 3rd)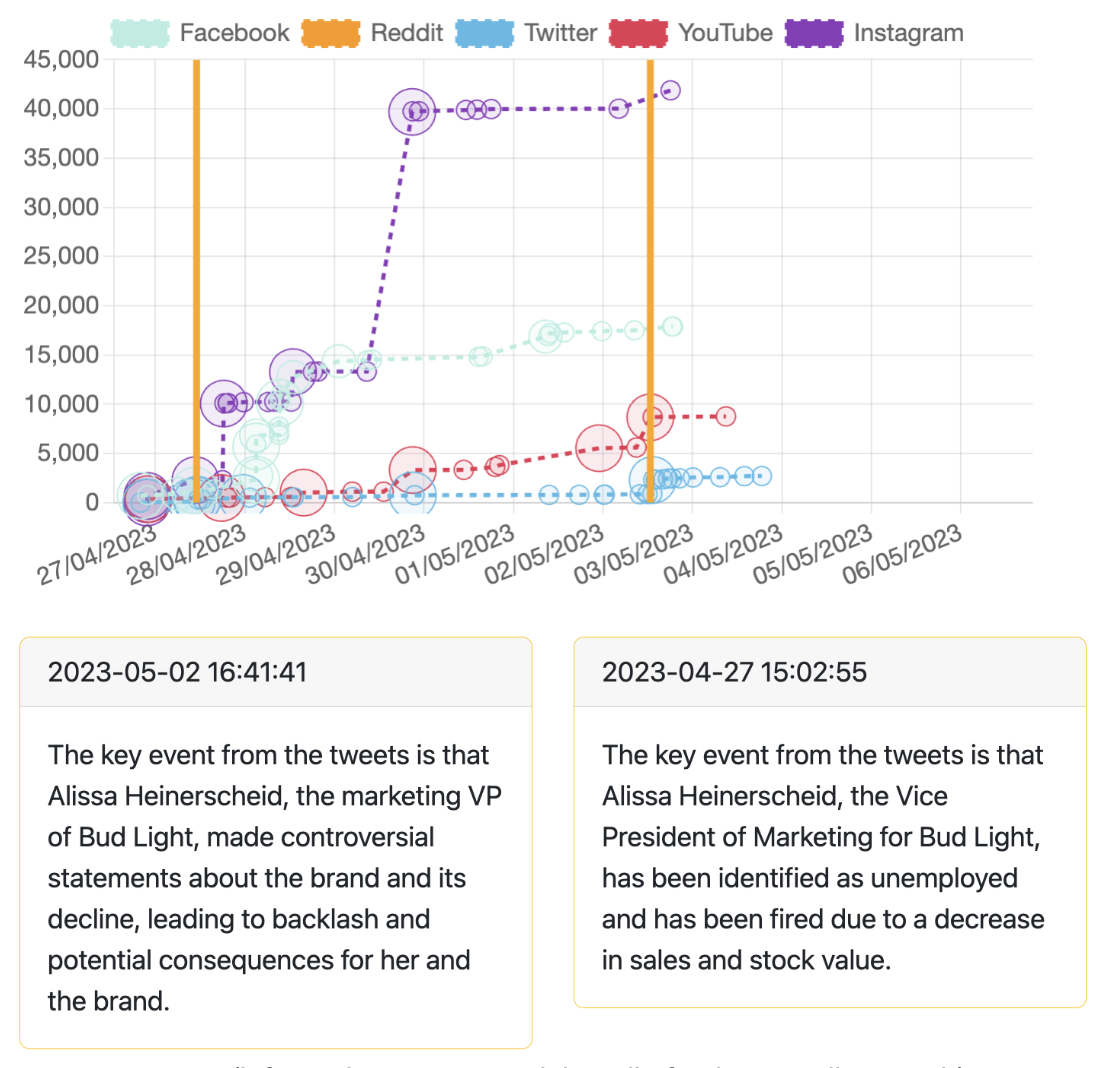 The boycott started to add criticism and pressure on the Vice president of Marketing for Bud Light, Alissa Heinerscheid, who was in charge of the marketing decision and promoted inclusivity. Especially on Twitter and Facebook, Alissa was largely targeted for harassment on the decline in sales and brand reputation. People shared rumors that she has unemployed and mocked her statement earlier that Bud Light was a "fratty, out-of-touch" brand.
...Alissa Heinerscheid, marketing VP, was only in the job for less than a year and declared Bud Light a "fratty, out-of-touch" brand. It may now lose its dominant position as a top selling brand. https://t.co/LRq6hCCmOJ

— Jonathan Turley (@JonathanTurley) May 2, 2023
Around the time, @PeterSweden on Twitter becomes a new active key opinion leader. Peter Sweden, real name Peter Imanuelsen, is a British far-right speaker and activist with 586k followers.

From the $BUD trading volume and the interactions on Twitter and Facebook, there are two spikes right after Ben Shapiro and Peter Sweden sent out feeds on April 27th and Aprth 28th respectively.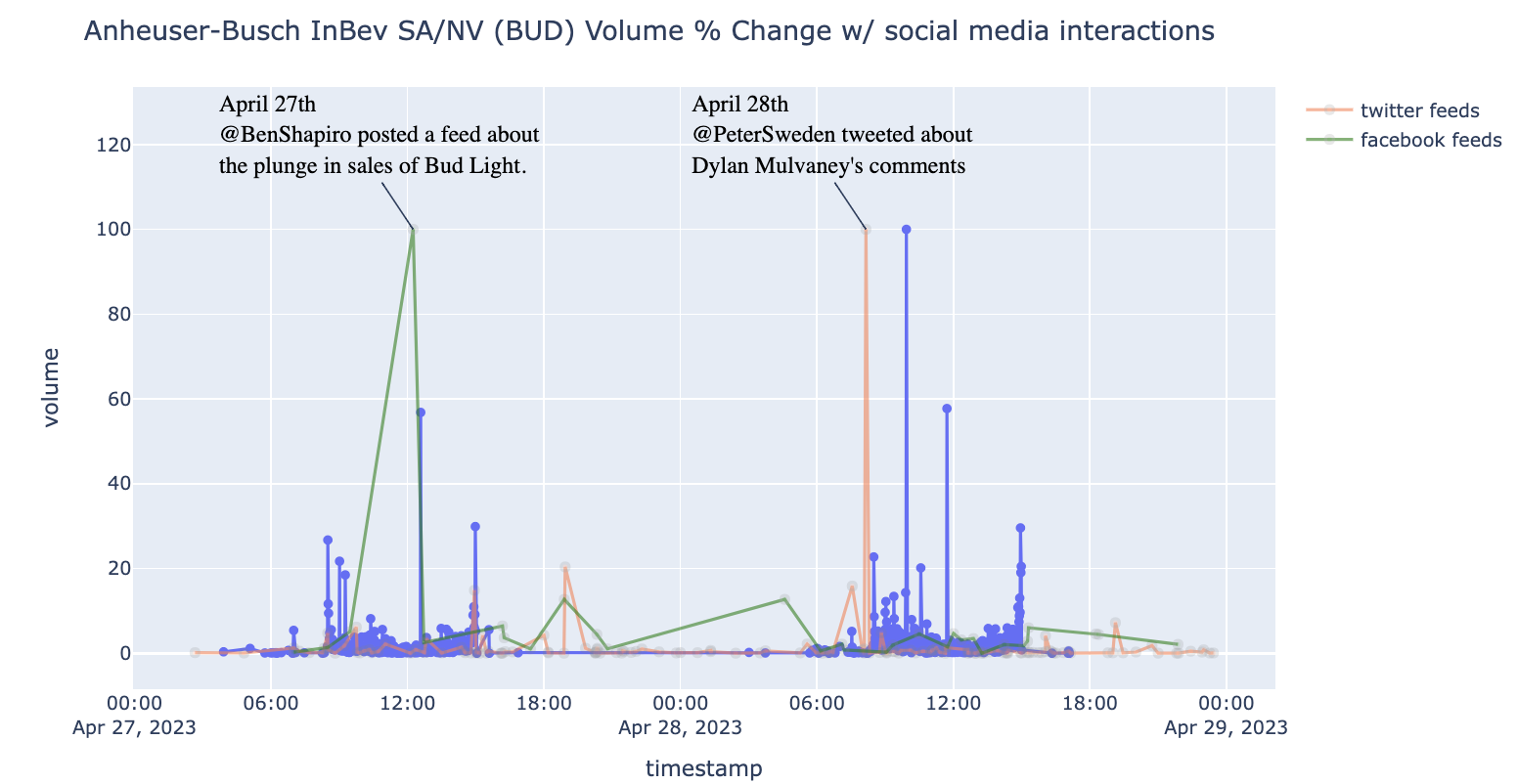 On April 27th, Mulvaney addressed the uproar over her Bud Light partnership for the first time in a front-facing social media video. After what must have been a truly surreal month of watching transphobes shoot cans of Bud Light over a simple ad, Mulvaney said that she felt "very dissociative" during the preceding weeks.
However, AB InBev still has not directly addressed the reduction in sales but confirmed in a statement that Alissa Heinerscheid and Daniel Blake, who oversees marketing for Anheuser-Busch's mainstream brands, were on a leave of absence. This news inevitably became a compromise to the boycott. More trendy videos on TikTok and Twitter showed people smashing, throwing away, and even running over Bud Light bottles. The situation took a darker turn with threats directed at Anheuser-Busch factories, including bomb threats that forced some facilities to close.
Seeing the continuous reduction in sales and pressured by conservative investors, institutions and hedge funds decided to exit their shares. Within two weeks, 11 institutions and hedge funds exited their shares completely according to AB InBev's 13F filings on June 30th, 2023.

On the other hand, the second most popular beer company Molson Coors became the direct beneficiary. On major social media, the Bud Light boycotting masses called for the public to choose Coors Lite and Miller Light as alternatives to Bud Light, which led Molson Coors 50% increase in sales and over 10% increase in stock price $TAP.
Absolutely insane. The Bud Light boycott is working.

Bud Light sales (outside of restaurants and bars) are down 26.1% for the week ending in April 22nd compared to the previous year.

Sales were down 21.1% for the week prior.

Volumes are down 8% for the year.

Coors Light and… pic.twitter.com/8lM7Y0MwMT

— Collin Rugg (@CollinRugg) May 2, 2023
Here is a summary of the shift between $BUD and $TAP and the related events:
Third drop (May 4th to May 31st)
During this period, the stock price experienced the largest drop by 30% due to a series of harmful events and bad management decisions: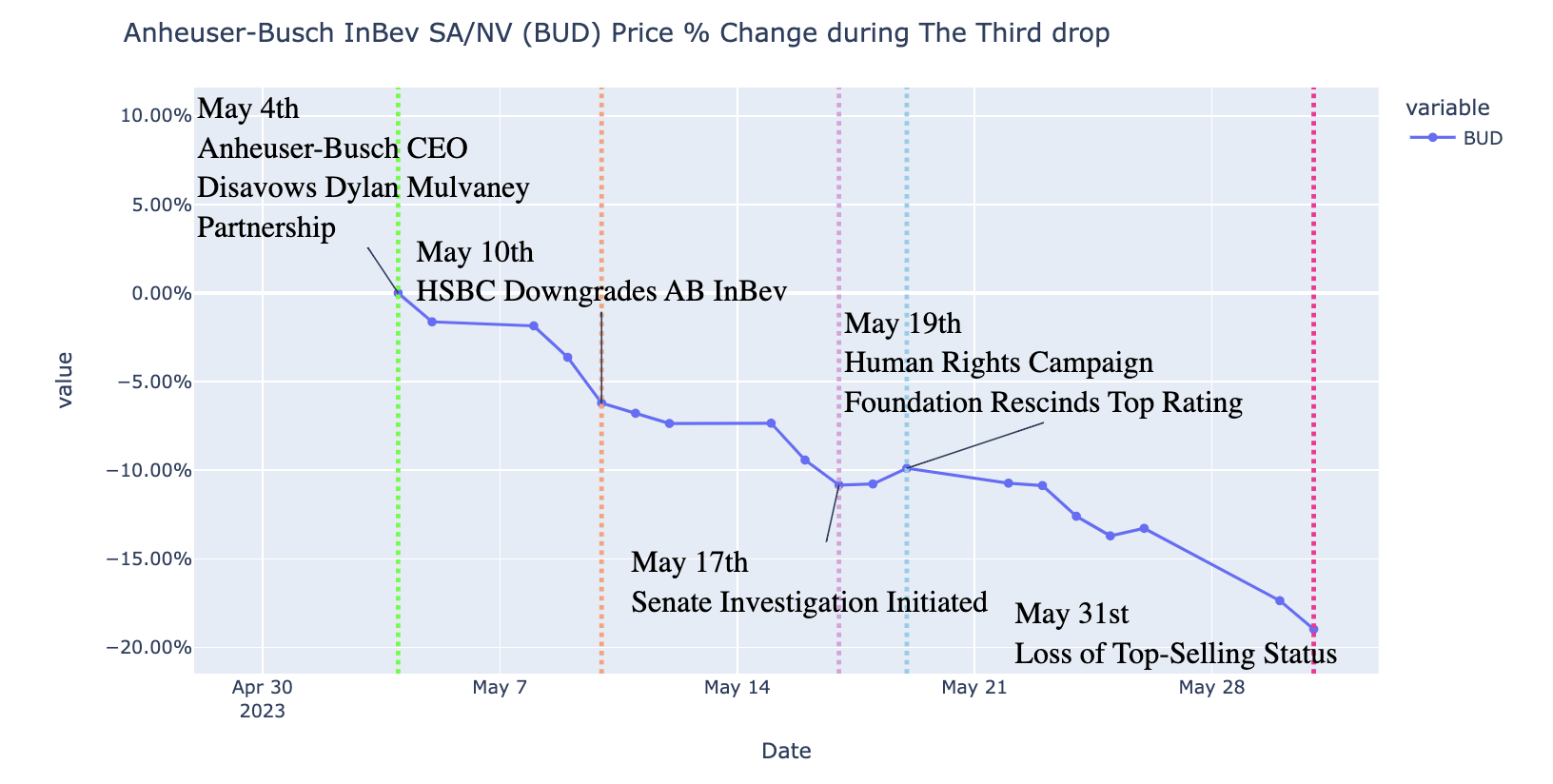 On May 4th, Anheuser-Busch's CEO Michel Doukeris first publicly disavowed the controversial partnership with Dylan Mulvaney on an earnings call with investors, stating that it was not intended as a marketing campaign. He shifted blame onto an outside advertising agency for approving the partnership without management's awareness. This announcement came on the heels of another substantial dip in sales, further exacerbating the company's troubles .
On May 10th, the global financial institution HSBC downgraded its rating of $BUD from 'Buy' to 'Hold,' reflecting concerns stemming from the ongoing boycott. Analyst Carlos Laboy downgraded the beverage stock to hold, saying there are "deeper problems than ABI admits."
On May 17th, Republican Senators Ted Cruz and Marsha Blackburn initiated a Senate investigation into Anheuser-Busch's partnership with Dylan Mulvaney. They cited specific concerns, such as Mulvaney's use of the word "girlhood" in her TikTok series' title, her self-identification as a girl, and worries regarding whether the partnership was aimed at marketing alcoholic beverages to children. This development added to the mounting pressure on the company.
On May 19th, the Human Rights Campaign Foundation revoked Anheuser-Busch's top rating for LGBTQ+ equality, citing the company's failure to support Dylan Mulvaney during the boycott. The move marks a significant setback for the company's image and standing in the LGBTQ+ inclusion space.
By the end of May, Bud Light lost its long-held status as the top-selling beer in the United States, a position it had maintained for two decades. Modelo Especial emerged as the new top-selling beer during this period of upheaval.
During this third drop period, the key opinion leaders group added Rogan O'Handley with 2.4 million followers on Instagram and Benny Johnson with 1.4 million followers on Twitter, who are both conservative commentators. Each one posted over 5 posts in the month related to the Boycott of Bud Light with over 265,000 and 77,000 interactions on average respectively.
🚨Anheuser-Busch CEO FINALLY disavows Dylan Mulvaney Bud Light partnership and says 'it was not a campaign' after firm sent letter to retailers blaming an outside ad agency for approving it 'without management awareness' as sales crash 26% https://t.co/dFEJWJHWWK

— Benny Johnson (@bennyjohnson) May 4, 2023
Boycott strategy
Since the beginning of the boycott, phrases like "Bud Lighted," "Bud Lighting," and "Go woke, go broke" have been circulating on the Internet. The interaction graph generated by Information Tracer below visualizes some phrases.
Those phrases describe a boycott strategy designed to challenge the so-called "rainbow capitalism." People behind this boycott also target other issues ranging from Adidas' gender-inclusive swimsuits to The North Face's marketing campaign featuring drag queen and environmentalist Pattie Gonia.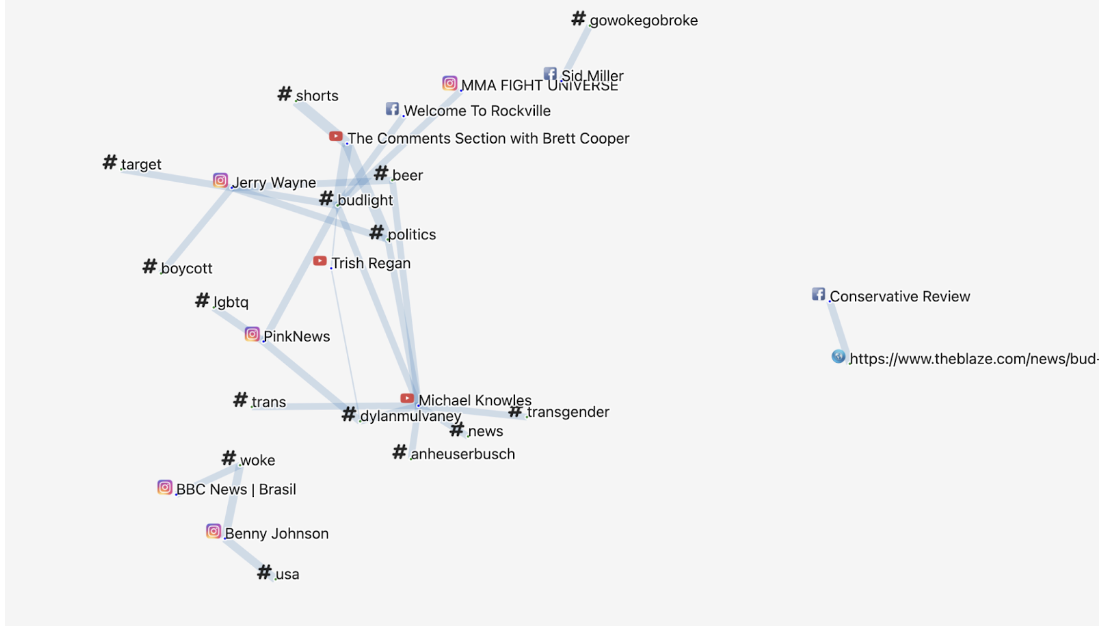 Part 2: Tips for detecting similar insidents in the future
We share two tips based on our analysis of the Bud Light Boycott incident.
Tip 1. Follow KOLs. Using tools like Informative Tracer, we can quickly locate the key opinion leaders and related hashtags at the beginning of the event. Since KOLs and hashtags do not change much throughout the entire incident, we can continuously monitor their sentiments, which are largely related to stock price move.
Tip 2. Use all information. Even though tracking social media is useful, investors should still consider other factors including market performance, industry trends, company earnings and company changes. We will have a much higher probability to make a great profit based on all information we have.
Conclusion
The impact of the online world on financial markets is profound. The dynamic at play is intricate. The cause-and-effect cycle is puzzling. If we analyze social media closer enough, we can possibly spot the next trend.
Further readings